Outcomes of the ERA meeting in Amman, Jordan
7 April 2015
Collaboration for restoration: The Ecological Restoration Alliance of Botanic Gardens meets in Jordan
Representatives from government, botanic gardens, NGOs and universities as well as land managers came together at a public symposium, entitled Restoring Degraded Ecosystems: Regional and International Perspectives, jointly hosted by the Royal Botanic Gardens Jordan and the Ecological Restoration Alliance of Botanic Gardens in Amman, Jordan on 30th March 2015. Environmental degradation is negatively impacting on livelihoods, communities, and ecosystem services throughout Jordan and the region at large. The meeting presented an important opportunity to make a call for action, and develop partnerships and strategies for scaling up restoration in the region, and beyond.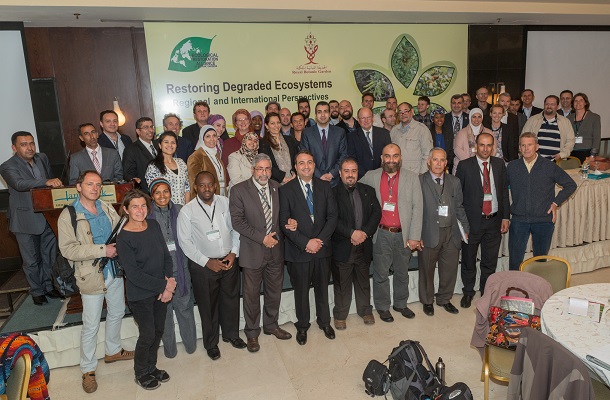 The symposium was opened by H.R.H. Princess Basma bint Ali, Founder of the Royal Botanic Garden Jordan, Professor Stephen Blackmore, Chairman of BGCI, and the Ministry of Environment, Government of Jordan. The symposium was addressed by 18 international and regional experts from 12 countries who presented perspectives on the importance and challenges of restoring degraded ecosystems around the world, and case studies of best practice.
As well as highlighting the unique skills that botanic gardens offer to support and initiate restoration efforts, symposium participants noted the need for ecological restoration to be mainstreamed into planning at regional, national and local levels. The high number of representatives in attendance from countries in the Middle East led to a plan for increased collaboration among the botanic garden community in the region to combine their skills and expertise to restore degraded areas.
The symposium was followed by a one day meeting of the ERA and botanic gardens from the region, outlining next steps for scaling up the contribution of botanic gardens worldwide to the CBD target to restore 15 per cent of the world's damaged ecosystems by 2020. A five year plan is in development, which will coordinate and link the restoration work of botanic gardens, promote the value of involving botanic gardens in restoration to a wide and diverse group of stakeholders, and develop and provide resources to help botanic gardens and the wider restoration community to scale up restoration initiatives worldwide. During working group sessions, outlines for regional restoration action plans were developed by meeting participants for the Middle East, Latin America and East Africa.
Following the meetings, the RBG Jordan team kindly hosted a visit to the garden. The spring rains had come before us and meeting participants were treated to a spectacular array of wild flowers. We also visited the nursery, where propagation protocols are being developed for the rare trees of Jordan, the Community-Based Rangeland Restoration site, and a permaculture site within the garden.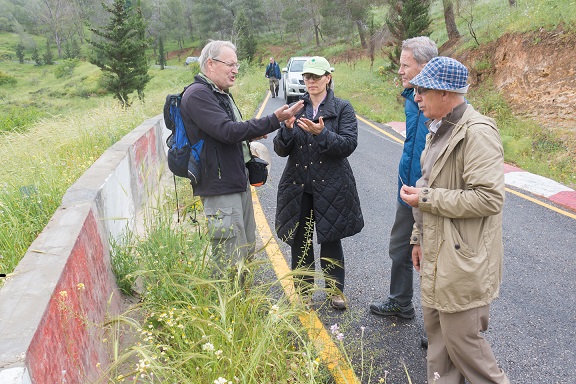 BGCI would like to thank H.R.H. Princess Basma bint Ali and the RBG Jordan team for their help organising the ERA symposium and for hosting the ERA team in Jordan. We would also like to thank Fondation Franklinia, GIZ, IUCN and the Jordan Tourism Board for sponsoring the symposium and visit.
| | | |
| --- | --- | --- |
| | | |
| Wild flowers in RBG Jordan | Wild flowers in RBG Jordan | Iris nigrans |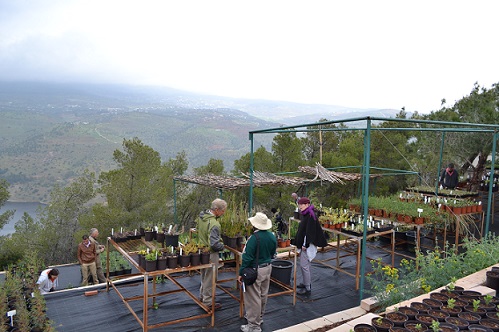 The nursery at RBG Jordan
Photo credit: Hideyuki Narita, RBG Jordan / JICA and Kirsty Shaw

---